For this edition of the FLAG Guest Blog we travelled to Lofton Label in Inver Grove Heights, Minnesota – just outside the Twin Cities of Minneapolis and St. Paul and host of our 2020 Annual Meeting Member Tour.  
Lofton Label is no newcomer to the scene.  It was founded forty years ago when Rick Gajewski, an inventor and entrepreneur, started the company with a used 4 Color 650 Webtron, one of those ubiquitous work horses of the narrow web industry.
In 1981, Lofton Label moved to their first facility in W. St. Paul and in 1987 the company relocated to its current location in Inver Grove Heights (southeast of the Twin Cities).  Here they purchased 17 acres and built on green space that would ultimately become an industrial park. Since then, they put on an addition in 1992 and another in 2005.  And with more acreage in the back – and a robust pipeline of business – there is still room for future expansion.
COO Mike Gaughan reviews latest label samples from Lofton Label.
The 65,000 square foot facility now houses two HP Indigo 13" 6800 digital presses and nine Flexo presses (7.5 – 24" wide from Aquaflex, Webtron, and Mark Andy.)  They also distribute and service labeling equipment for Universal Labeling out of Florida and desktop printers from Zebra and Datamax as well as blank labels and ribbons that go with these desktop printers. According to Mike Gaughan, COO, "We started doing this in 1994 because we discovered that there was finger pointing between manufacturers and label printers. If we could do both then only one company had complete responsibility – and that translates to great support for our customers."
The company's greatest challenge was one that affected most label converters – the general decline of the economy in 2009/10.  Before that they had built Lofton Label up to 135 employees; but some of their largest customers were in housing construction and digging equipment – two markets most adversely affected by the crisis and revenue went down 50%. They reduced their manpower to only 65 employees — a tremendously painful action for a family-run organization.
Today, revenue is back up but they're doing the same amount of sales with only 87 employees.  Gaughan adds, "We've learned that the good times won't be around forever – and have become leaner and smarter in our plant, relying more on digital printing and being careful about adding staff."
Lofton Label started investigating digital printing in 2008, and by the fall of 2009 had purchased their first HP Indigo. Times were getting tough by 2009 and they knew they needed to be more efficient. Timing was perfect as they wanted to get a jump start and purchase one of the first 6000's on the market. Gaughan remembers, "It was certainly a challenging time to make that kind of investment – a real roll of the dice.  We felt strongly that this would be the best way for our company to keep growing." Clearly it made a difference,  because within a short time, that press was filled with work. With OT around the clock, it was time for a second HP digital press, which was purchased in April, 2014.
With both flexo and digital capabilities, Lofton Label now produces labels for a broad array of industries including agriculture, animal health, food & beverage, health & beauty, industrial chemical and beverages.  One large portion of their business is extended content booklets which they print both flexo (offset) and digital. They've  become known for high-end, high-quality peel and reseal booklets.
Another large focus of their business has become flexible packaging from their 24" Aquaflex 10 color press.  They print unfinished pouch materials for customers who have their own pouching equipment and create gusseted pouches and sachets.  Additionally, they partner with pouching companies so that they can provide their customers with a total flexible package solution.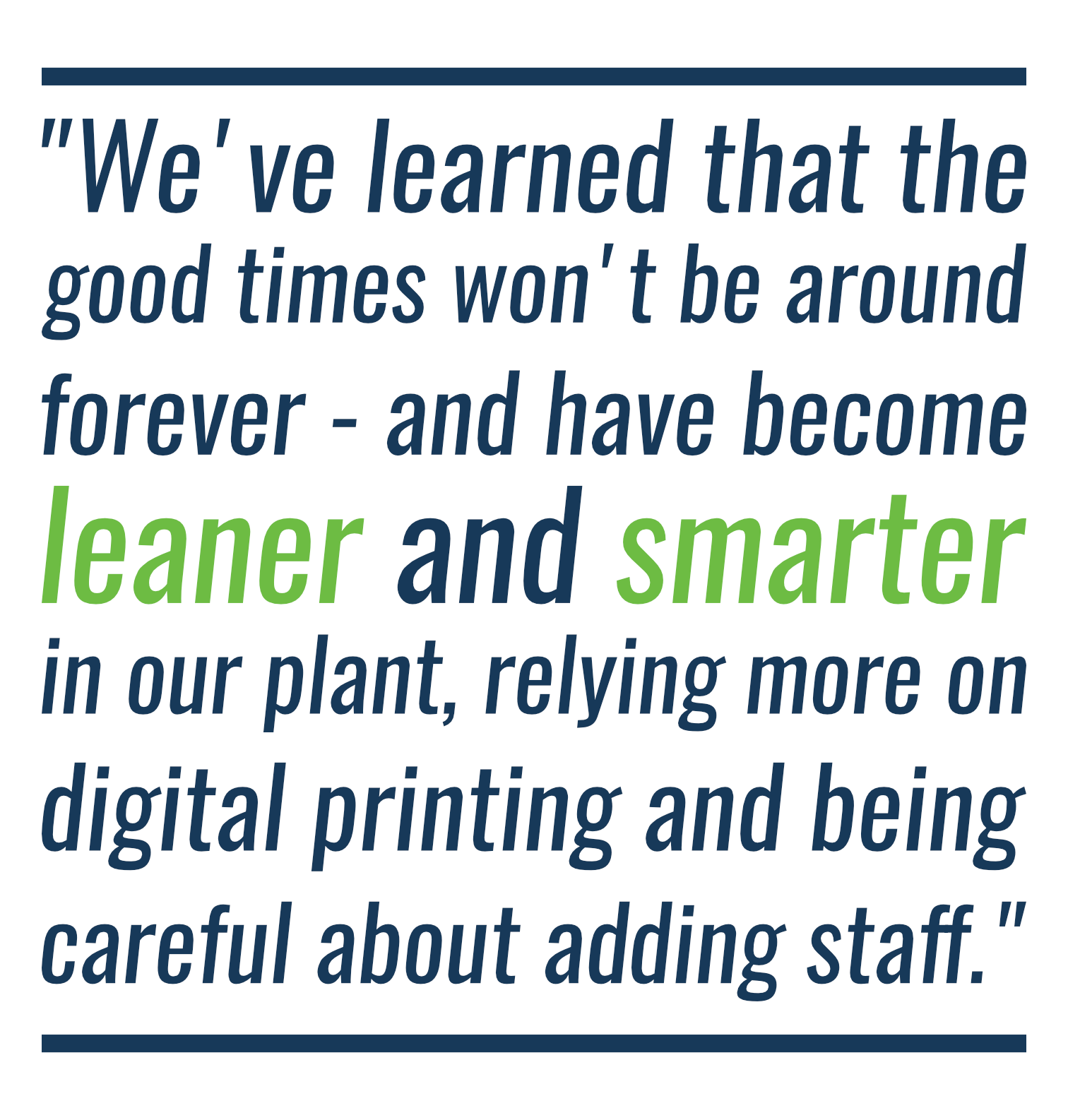 Mike Gaughan, COO
Lofton Label
Lofton Labels' customers — and competitors – are primarily located in Minnesota and Wisconsin.
When asked how they differentiate themselves, Gaughan noted five distinct capabilities: 
Flexibility: with flexo and digital presses they have the right machine for the right application.
Speed in quoting – customers want a price, and they want it instantly.  Lofton Label strives to be the first one there every time.
Speed of reconciliation – "everyone makes mistakes but customers get upset when you can't fix your mistakes quickly and to their satisfaction."
General reputation for quality and service.
Tenure – they've been around for 40 years and know what we're doing.  Nine senior managers have an average tenure of 21.56 years and eleven press operators have an average tenure of 15.55 years.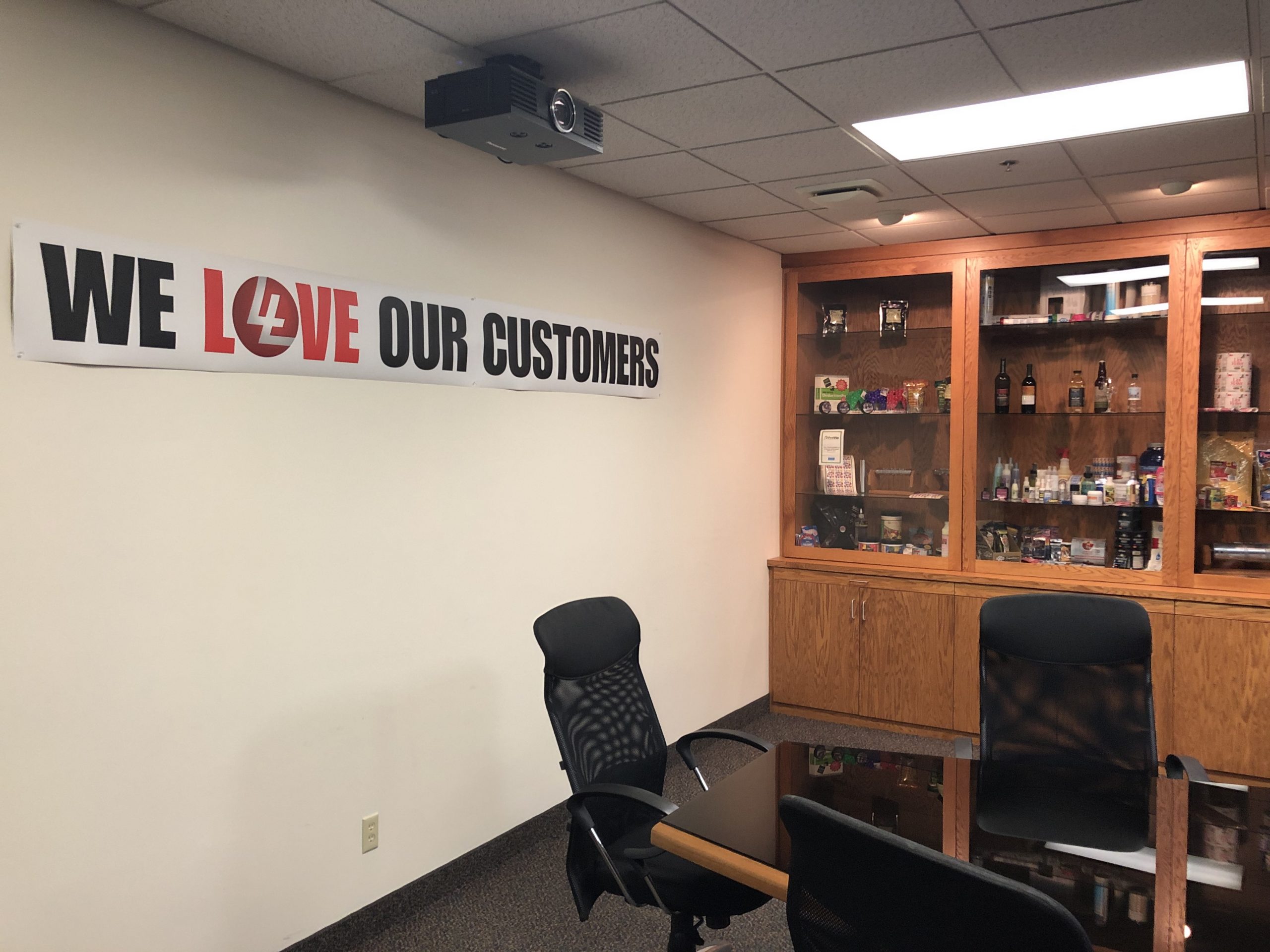 A banner proclaiming "We Love our Customers" is prominently displayed throughout the Lofton Label facility.  This slogan is really driven by customer service who are known throughout the organization as the direct voice of the customer.  The folks in the shop know this and understand that when a customer service rep is pushing something through the shop – it's really the customer who is behind this extra effort.  When a customer has an emergency, the plant will jump into gear and get something out the same day. 
For example, Lofton Label has a chemical customer who uses barrel labels.  One of their plants had about 180 barrels that needed to go overseas and were missing a key label.  And it had to ship the next day.  Although they had no art, and no tooling – they quickly got their graphics department to design the label, and they printed it digitally and hand cut the labels on a paper cutter.  Gaughan notes, "We just found a way to do it – that's how 'loving our customers' comes to life."
The largest challenge Lofton Label faces today, like so many businesses in and out of the printing industry, is finding the right manpower to keep growing.  So, they are constantly looking at ways to add capacity without adding people.  Additionally, they've invested in a local training school – Flexo Tech in Minneapolis – to help train smart operators and finishers who come to Lofton Label from other industries. 
They see flexible packaging as their biggest opportunity and intend to invest in a wider press to build on their current knowledge and growth and take it to the next level. 
Lofton Label has been a FLAG member since 2015 and will be hosting the Member Tour at this year's annual meeting in October.  While they've benefited from quarterly rebates and the ability to connect with peers from other independent converters at the Annual Meeting, they acknowledge two other very tangible benefits gained from FLAG membership.
One is new business from other FLAG Members.  Lofton Label regularly attends Peer Group Meetings and credits the respect and trust that develops at these meetings as a catalyst for exchanging business opportunities.
Second is a catastrophic backup plan with FLAG members across North America.  They use this capability all the time – both to gain new business and to help them when current customers ask during an annual audit, "What's your backup plan?".